Diving & Courses
Guided Diving
For qualified divers we offer an extensive program of guided dives. Please see the dive centres page for more details for each location. Our dive guides have extensive knowledge of the area and can help you to get the most out of your dives, giving greater insight into the environment you're visiting. All equipment can be hired if you're without.

Experience Dives
If you're not sure whether diving is for you, want to try it before going for full qualification or just want a one off dive experience we have just the programme
Discover Scuba Diving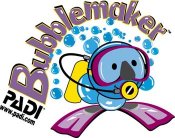 After a short introduction to diving with you instructor, you'll get in the water as soon as possible. With a low instructor/student ratio and confined water conditions, this dive gives a gentle introduction into diving. You'll cover essential safety aspects and basic diving technique but this experience is focussed on getting you into the water. After getting acquainted with being underwater and happily managing some basic dive skills, your instructor may take you on an underwater tour. This is absolutely the best way to see if you'll enjoy diving again - by doing it. Minimum age is 10, but for those between 8 and 10 the Bubblemaker programme offers a simplified structure where an instructor has control of the participant at all times.

Courses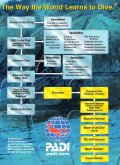 PADI has carefully designed its courses to maximise the learning and enjoyment you gain from each one. Every qualification builds on what you have learnt beforehand and ensures you have mastered every previous skill before moving on to the next. This approach to instruction means that progression is made at a comfortable rate with a logical sequence.
Click on the flow chart to see how you can progress as a diver within the PADI system.
Scuba Diver
This qualification is half of the Open Water Diver course. This course cover both theory (see eLearning) and practical aspects and after qualification allows you to dive to a maximum of 12m with a PADI professional. This is a great opportunity if you have limited time or don't want to commit fully straight away - you can always upgrade to the full Open Water qualification at a later stage.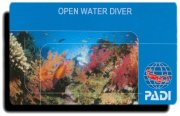 Open Water Diver
The most popular and recognised entry level dive qualification in the world. Covering both theory (see eLearning) and practical aspects, this course will give you the skills to be able to look after yourself underwater. After qualification you will be able to dive all over the world, with or without a dive guide. If you're planning on diving again, it makes sense to get your Open Water qualification rather than continuously doing 'try' dives. You will be able to do much more varied diving and get more out of it - even in monetary terms you'll save money after only about 5 dives. Your qualification doesn't lapse - you'll be a diver for life! This allows you to pick up diving at any stage in the future, the chances are you'll have the opportunity to dive on some holiday to come, even if it is just to sneek off quickly for that one cheeky dive.
Adventure Dives, Specialties & Advanced Open Water
By this stage you've done all the hard work! These courses aim to widen your diving experience by learning new techniques and showing you what's possible underwater. After a knowledge short development section you go on your dive and then log the experience. Options include diving deep to 30m, navigating underwater, perfecting your buoyancy and diving at night! After 5 adventure dives (including Deep and Navigation) you qualify for the Advanced Open Water qualification - that's it! Specialties allow you to go into these skills in more depth and gain you qualifications in these specialty areas.
Rescue Diver & Emergency First Response


After diving for a while people often start to become more aware of the other around them and want to challenge themselves more. The Rescue Diver course provides the solution! This course is designed to help you look after divers in need. You'll learn how to deal with everything from identifying heat exhaustion and stress, to searching for and helping an unconscious diver underwater. People often describe this course as the hardest they've done - but also the most enjoyable and worthwhile.
A current First Aid qualification is an important part of the Rescue Diver certification. For those without a current qualification, or no experience in First Aid at all, Emergency First Response gives you the important skills you need to deal with a casualty. The skills learnt here are not limited to just SCUBA diving but can be used in everyday life, from at home to the office.
Master SCUBA Diver
Congratulations! This is the highest recreational rating within the PADI system. You'll have shown a good diving history (minimum 50 logged dives), wide diving experience (5 Specialties) and the ability to look after others (Rescue Diver). Master SCUBA diver celebrates your achievement and gains you a highly prized certification.
Professional Development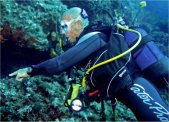 Divemaster
The first professional level qualification. As a Divemaster you'll be responsible for organising diving for others, helping instructors run courses and being a good role model to other divers. This course takes the form of an internship where you'll be working as part of our team to get hands on experience of the type of work you'll be doing. Your whole relationship with diving will change as you gain responsibilities and deeper insight into the sport, business and theory of diving.
Instructor... and beyond!
We have our own Course Director, Phredie, who is also the owner of Odyssey Dive Club. Course Directors are the highest qualified members in PADI and are responsible for teaching instructors.
As an instructor your focus will shift to teaching. All the courses you've done beforehand have ensured you are already a proficient diver with exemplary dive skills, sound theory knowledge and good professionalism. The Instructor Development Course (IDC) will prepare you for the Instructor Examination (IE) which is run by the PADI regional office (not Odyssey). The IDC is an intensive course preparing you thoroughly, not just for the IE, but also for your work as an instructor after passing the exam.
Once qualified as an instructor there are further opportunities to further your learning and teaching skills - we can take you through them and advise you on your professional development.